You are here
Tempers Flare as Food Runs Short in Hoboken, N.J.
Sat, 2012-11-10 22:57 —

Maeryn Obley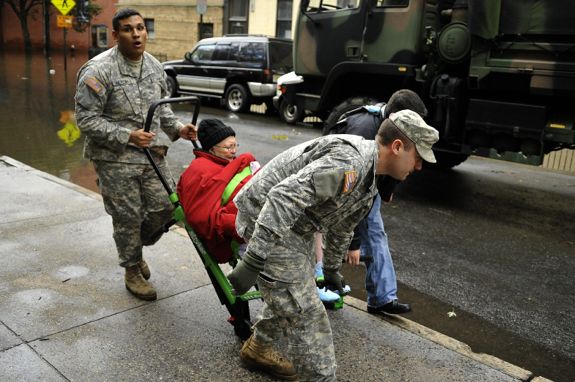 Image: Members of the Army National Guard Unit Gulf 250 from Morristown, NJ evacuate a victim from Hurricane Sandy on October 31, 2012 in Hoboken, New Jersey. (Getty)
weather.aol.com - October 31st, 2012
National Guard troops delivered food and water to residents in this heavily flooded city across from Manhattan on Wednesday as officials sent out a plea for more supplies, including boats and generators.
Superstorm Sandy sent the raging Hudson River waters from one side of the one-square-mile city to the other Monday. Two days later, at least 25 percent of the community was flooded and 90 percent was without power, leaving many residents increasingly anxious and municipal leaders struggling to get assistance to all those who need it.
Groups this Group Post belongs to: